Lima to Buenos Aires: Deserts & Dancing
Booking Dates
01/27/2021 through 12/15/2022
Travel Dates
01/27/2021 through 01/21/2023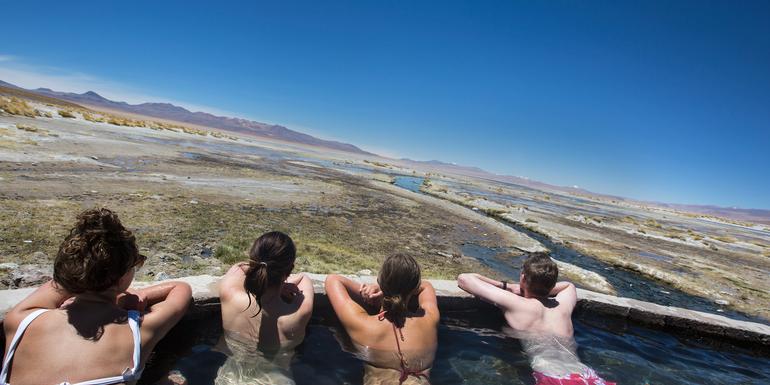 Lima to Buenos Aires: Deserts & Dancing
South America rewards those willing to explore. Consider this epic adventure: beginning in Lima and ending in Buenos Aires, it's 35-full days of fun. You'll hike the Inca Trail, cross the Salt Flats of Bolivia by 4×4, and feel like a sophisticate sipping wine in Argentina. Along the way, you'll engage with local cultures with a small group of other young travellers to back you up. For those willing to invest their time, this trip offers big returns-in adventure.

Highlights
Sandboard the desert dunes of Huacachina, Spot condors at Colca Canyon, conquer the Inca Trail on the way to Machu Picchu, experience traditional life on Lake Titicaca, cross the Salar de Uyuni, the world's largest salt flat, on a 4×4 excursion, Stay overnight at a G Adventures-supported community lodge
Accommodation
Simple hotels (20 nts), hostels (5 nts, multi-share), overnight buses (3 nts), camping (3 nts), homestay (1 nt), G Adventures-supported community lodge/basic hotels on Uyuni/Salt Flats excursion (2 nts, multi-share).
Group Leader
Chief Experience Officer (CEO), specialist Inca Trail CEO on hike, local guides.
Group Size Notes
Max 18, avg 14.
Meals Included
26 breakfasts, 6 lunches, 7 dinners
What's Included
Your G for Good Moment: Ccaccaccollo Community and Women's Weaving Co-op visit, Ccaccaccollo
Your G for Good Moment: Handmade Biodegradable Soap Products
Your G for Good Moment: Jukil Community Experience & Lodge, Santiago de Agencha
Your Welcome Moment: Meet Your CEO and Group
Your First Night Out Moment: Connect With New Friends
Your Foodie Moment: Huacachina Winery Visit, Huacachina
Your Discover Moment: Cusco
Your Foodie Moment: Sacred Valley Brewery, Ollantaytambo
Your Big Night Out Moment: Cusco
Your Local Living Moment: Lake Titicaca Homestay, Lake Titicaca
Your Discover Moment: Sucre
Your Discover Moment: Salta. Sunset sandboarding & dune buggies (Huacachina). Pachamanca-style dinner (Nazca). Colca Canyon excursion. Inca Trail hike with a local guide and cook (4 days). Guided tour of Machu Picchu. Lake Titicaca excursion. Salar de Uyuni and surrounding area excursion (3 days). Internal flight. All transport between destinations and to/from included activities.
| Day | Description | View All |
| --- | --- | --- |
| Day 1 | Lima | Details |
| Day 2 | Lima/Huacachina | Details |
| Day 3 | Huacachina/Nazca | Details |
| Day 4 | Nazca/Arequipa | Details |
| Day 5 | Arequipa | Details |
| Day 6 | Arequipa/Colca Canyon | Details |
| Day 7 | Colca Canyon/Arequipa | Details |
| Day 8 | Arequipa/Cusco | Details |
| Day 9 | Cusco | Details |
| Day 10 | Cusco | Details |
| Day 11 | Cusco/Ollantaytambo | Details |
| Day 12 | Inca Trail | Details |
| Day 13 | Inca Trail | Details |
| Day 14 | Inca Trail | Details |
| Day 15 | Machu Picchu/Cusco | Details |
| Day 16 | Cusco | Details |
| Day 17 | Cusco/Puno | Details |
| Day 18 | Puno/Lake Titicaca | Details |
| Day 19 | Lake Titicaca/Puno | Details |
| Day 20 | Puno/La Paz | Details |
| Day 21 | La Paz | Details |
| Day 22 | La Paz/Sucre | Details |
| Day 23 | Sucre | Details |
| Day 24 | Sucre | Details |
| Day 25 | Sucre/Potosí | Details |
| Day 26 | Potosí | Details |
| Day 27 | Potosí/Uyuni | Details |
| Day 28 | Uyuni/Salt Flats and Desert Crossing | Details |
| Day 29 | Salt Flats and Desert Crossing | Details |
| Day 30 | Salt Flats and Desert Crossing /San Pedro de Atacama | Details |
| Day 31 | San Pedro de Atacama | Details |
| Day 32 | San Pedro de Atacama/Salta | Details |
| Day 33 | Salta | Details |
| Day 34 | Salta/Buenos Aires | Details |
| Day 35 | Buenos Aires | Details |